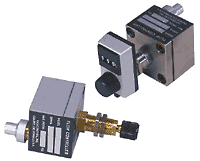 Model 202 flow controller
Adjustable span upstream-referenced flow controller
The Model 202 provides a user-variable span adjustment permitting it to be used for a variety of flow ranges. The flow range is infinitely adjustable from a minimum flow as small as 5.0 mL/min up to a maximum flow of 1.6 L/min (N2 at 40 psi). After the span is adjusted, the flow controller has a full 10 turns of resolution between zero flow and the maximum rate. When equipped with a Spectrol digital dial, settings are reproducible to better than 1%.
The Model 202 comes standard with 1/8" NPT female pipe threads. Adapters to go from pipe to 1/16" OD tubing are included. Other fittings are available.
All flow rates listed in the product number tables are based on N2 at 40 psi inlet pressure. Maximum inlet pressure is 200 psi.
Product numbers
Select description to jump to product numbers:
Further reference
Model 100:
Fixed span upstream-referenced flow controller
Model 300:
Fixed span downstream-referenced flow controller

Aluminum body, Viton diaphragm
Description
Product no.
With standard control knob
FC22AV1K
With Spectrol 3-digit dial
FC22AV1S3
With Spectrol 4-digit dial
FC22AV1S4

Aluminum body, stainless steel diaphragm
Description
Product no.
With standard control knob
FC22AS1K
With Spectrol 3-digit dial
FC22AS1S3
With Spectrol 4-digit dial
FC22AS1S4

Stainless steel body, Viton diaphragm
Description
Product no.
With standard control knob
FC22SV1K
With Spectrol 3-digit dial
FC22SV1S3
With Spectrol 4-digit dial
FC22SV1S4

Stainless steel body, stainless steel diaphragm
Description
Product no.
With standard control knob
FC22SS1K
With Spectrol 3-digit dial
FC22SS1S3
With Spectrol 4-digit dial
FC22SS1S4