2 Models
CTM2-2000 - 2000 lb / 10 kN / 1000 kg - PN AWT05-508112
CTM2-10000 - 10000 lb / 45 kN / 4500 kg - PN AWT05-508111
Measures Cables 3/16" - 1" (5mm - 25mm) (OD)
The Check-Line CTM2 Digital Cable Tension Meter quickly measures tension in guy wires, zip lines, guardrail cable and overhead lines. It installs, measures and removes in seconds. The CTM2 features a precision loadcell for highly accurate measurements that do not require lookup or correction tables.
The CTM2 can be placed on a cable, measure its tension, and removed in under three seconds! There are no complex lookup tables, no conversion charts. The operator can quickly select from 20 different wire sizes and types stored in CTM2's memory. The Check-Tensioning mode graphically displays the current and target tensions for extremely quick setting of line tension. Even the infrequent battery changes are quick.
The CTM2 is used in many industries to ensure proper tensioning. Typical applications include tower and stack guy wires, zip lines, pretensioned cable barriers, bridges, elevators, winch rope, overhead electric transit wires, fall arrest systems, aircraft cables and utilities.

Includes NIST-Traceable Calibration Certificate
2 Year Warranty

Stores calibrations for up to 20 unique wire sizes and types up to 1 inch max. (25 mm)

Portable and rugged – designed for outdoor use

Telescoping handle engages meter quickly with minimal effort

Uses stanadrd AA Batteries for up to 120 hours of use

User-selected units of measure of Lbf, Kgf or Newtons

CE Certified
Calibration
Suggested wire calibrations:
Calibrate each cable diameter installed with the most appropriate sheaves. If two cable types are used of the same diameter (e.g. ½" 7x7 and ½" 6x19), calibrate each type independently if accuracy is critical.
Recalibration: At user discretion. Commonly 24 months but should be more frequently with heavy use. Factory recalibration conducted typically in 2-4 days.
Custom Calibration Available
The CTM2 can be calibrated with a customer supplied sample if none of the factory calibrated materials are suitable. In this case a 10 ft. sample must be supplied (non-returnable).
The CTM2 is supplied as a complete kit including tension meter, instruction manual and calibration certificate in a heavy duty carrying case.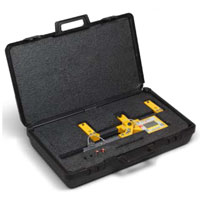 Capacity

CTM2-2000 - 2000 lb / 10 kN / 1000 kg
CTM2-10000 - 10000 lb / 45 kN / 4500 kg

Resolution (Selectable)

CTM2-2000 Low 10lb/5Kg - Med 5lb/2Kg - High 2lb/1Kg
CTM2-10000 Low 50lb/20Kg - Med 20lb/10Kg - High 10lb/5Kg
*Default Setting is Medium

Wire sizes

3/16 inch through 1 inch (4.75 - 25mm)

Accuracy

±3% instrument capacity

Number of calibrations

Up to 20 can be stored independently

Operating Temperature

-4°F to 158°F (-20°C to 70°C)

Loading error

Cable elongation of only 0.08 inch (2mm)

Display

Informative Display: Shows Unit, Wire Type, Sheave & Battery;

Date and Time

Included

Calibration Reminder

Included (set by factory)

Backlight

Included (configurable intensity and timer)

Power

AA batteries x2

Battery Life

10 Hz = over 250 hours continuous
100Hz = over 100 hours continuous
*Tested with blacklight off

AZT (Automatic Zero Tracking) & Filtering

Configurable AZT and Filtering

Carrying Case

Included

RS-232 Port

4-Pin Lemo RS-232 output

Sheave range

Sheave accommodates rated cable size and 1/2" smaller. Sheaves are not compatible with larger wire sizes - order additional sheaves for wire sizes.

Units Of Measure

pound-force, kilogram force, Newtons

Environment protection

Suitable for continued outdoor use

Dimensions

10 x 23 x 3 inch (25 x 59 x 8 cm)

Weight

Approx 11 lb (5 kg)

Shipping Weight

25 lbs (11.4 kg)

Shipping Dimensions

29 x 19 x 9 inches (74 x 48 x 22 cm) with carrying case

Warranty

2 Years
Three sheave sizes are available. For most applications one sheave set for the entire assortment of wire they tension will be sufficient. If you need to check tension in both 3/16" and 3/4" rope, then they should order two sheave sets. The operator must use the appropriate sheave set for the wire size and calibration stored. Changing sheaves sets takes about two minutes with the included wrench.
The CTM2 needs to be calibrated in advance for each wire diameter / wire construction you will be measuring. 1 calibration is included at no charge, each additional calibration is $120.

When listing cables you must provide the diameter & construction, for example;
Cable 1: 1/2", 1x7
Cable 2: 3/4", 1x19
Wire
Diameter

Wire
Construction

Inch

1x6

1x7

1x19

3x7

6x7

6x19

6x26

6x36

6x37

7x19

8x19

19x7

3/16

1/4

9/32

5/16

3/8

7/16

1/2

9/16

5/8

11/16

3/4

13/16

7/8

1

MM

1x6

1x7

1x19

3x7

6x7

6x19

6x26

6x36

6x37

7x19

8x19

19x7

5

6

7.8

8

9

9.5

9.6

10

10.5

11

12

12.5

13

14

15

16

17

18

20

25.4

CTM-CAL2

Optional Calibration

*

EX: 1/2" 6x19

*

20 separate calibrations maximum